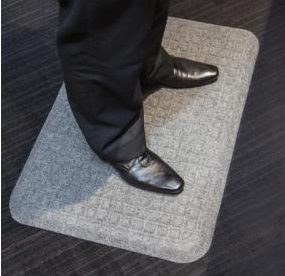 Fantastic, you have decided to get off the chair and work on your feet.
​There are many standing desks available for you to choose from but here are some hints.
Ensure that both the screen and keyboard shelves are adjustable.
Your eyes should be level with the top of your computer screen.
Put your arms into your waist and stretch out to the keyboard.
Use an Anti-fatigue Mat – to stop aches in feet, legs & back
Optional Extras
Use a stool or foot rest
Getting Started
Start in short bursts of standing – 10-30 minutes and then sit for 15 miniutes for the first week or even month. This depends on your physical condition and any existing injuries you may have. The key is not to push yourself too far to fast otherwise you will cause yourself an injury and not be able to stand.
Once you are comfortable with the time you can stand. Increase the standing period by another 5-15 minutes each session per day thereafter – continue to increase your standing time as you get used to standing. Again don't push yourself.
Always stand on an anti-fatigue mat when standing.
Don't stand for more than four hours without a break.